Borrowing, Ordering and Returns
A library card (Athene card, ULB card) is required in order to borrow books and other media from ULB Darmstadt. This entitles you to borrow from ULB Stadtmitte and ULB Lichtwiese. Media can be researched via the TUfind search portal.
Open-access stock that is available to borrow can be taken directly from the shelf and checked out at the self-service terminals.
You can order items from the stacks to borrow or view from the library using TUfind.
Borrowed media can be returned at two return machines at the ULB location Stadtmitte.
The return at the ULB Lichtwiese is done with the help of the return shelves (Smart Shelves).
Please note that media cannot be extended by yourself via the library account on the last day of the loan period. If you wish to extend your loan on the last day of the loan period, you can contact the Service and Information team during service hours or write an e-mail.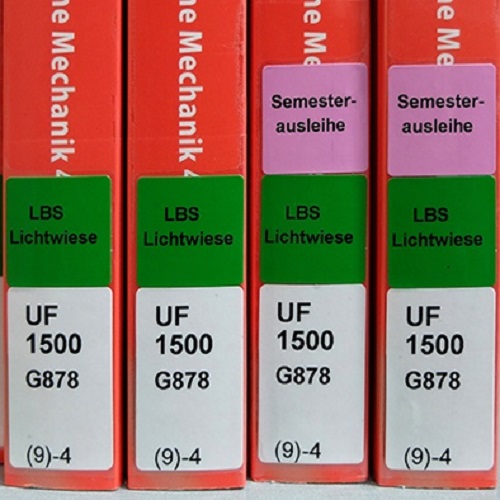 Picture: Daniela Poth
Textbook Collection
You will find the textbook collections on the ground floor of the two ULB locations. You can borrow textbooks with an additional pink label with the word "Semesterausleihe" ("semester loan") for 6 months.
Availability
Media ordered from another location or from the stacks will be available to you on the morning of the next working day.
This does not apply to orders placed on public holidays or days when ULB is closed. Please also observe the current opening hours .
For reason of acclimatisation, old stock can only be seen 2 days after ordering. The Research Reading Room has special rules of use and opening hours.