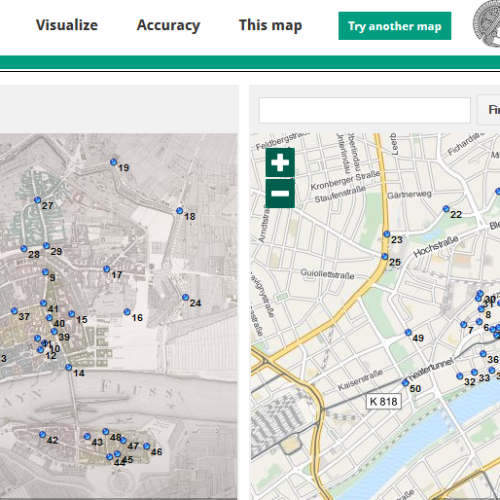 Picture: ULB Darmstadt
Become a georeferencer
In this project, which was launched in 2015, 75 people linked 886 maps with more than 20.000 control points in under five weeks. And the work continues – become a georeferencer and link digitised maps.
The quick start guide or straight to the detailed instructions (opens in new tab) (german version only)
Log in to with an existing social media account (Twitter, Facebook, Google) or create an account. ULB georeferencer
Select "Try another map". A random map will be displayed. The historical map will be shown on the left and the modern one on the right.
Compare the two maps. Identify the area that is depicted. Use "Find a place" or go to "This map" for further information on the map.
Select identical control points on the two maps by clicking on them alternately. Mark as many points as possible, including beyond the edges of the map
Then click on "Save".
Check the displayed location on the map. If necessary, correct the control points. Add more control points or edit the next map.