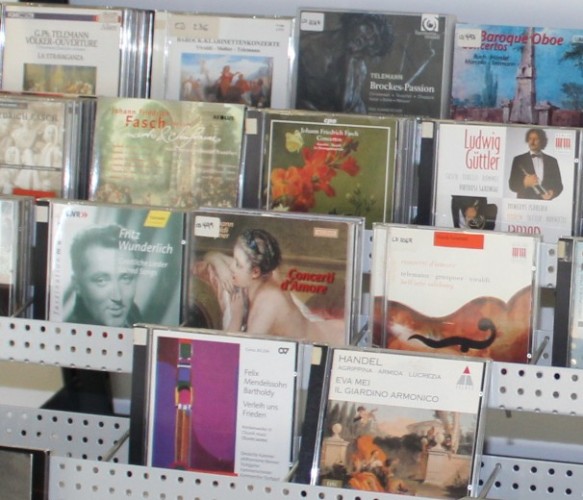 Picture: ULB Darmstadt
Music in the Research Reading Room
The reference library of the music collection in the Research Reading Room includes the full works of around 80 composers, CD recordings from manuscripts of the historical music collection, special musicological literature and the focus of Darmstadt's music history.
Music manuscripts
The music manuscripts include a large quantity of pieces by Christoph Graupner, copies of the works of Georg Philipp Telemann and original manuscripts, especially from the 18th and 19th centuries.
Born 23.1.1683 in Kirchberg
Died 10.5.1760 in Darmstadt
1711 married Sophie Elisabeth Eckardt
In 1709, Landgrave Ernest Louis brought Christoph Graupner from the Hamburg Opera to Darmstadt.
The instrumental work includes the most important genres and musical styles from the mid-18th century: overtures, concerts, symphonies and sonatas. Over his 50 years of uninterrupted activity at the Darmstadt court, Graupner took up the modern musical tendencies of his time and integrated them in his works.
His contemporaries therefore considered him a highly modern composer. During his service, the Darmstadt Court Orchestra became a widely respected ensemble of national acclaim with strong links to other courts and composers. In addition to Graupner's own works, his Court Orchestra also performed many pieces by leading contemporaries.
Graupner cantatas (opens in new tab) (Friedrich Noack directory)
Because of the diversity and modernity of his music, Graupner is still greatly appreciated today by musicians from all over the world. Many artists who specialise in historical musical practice have for many years devoted themselves intensively to discovering his works:

Telemann and Graupner
Darmstadt's Telemann manuscripts are exclusively copies by Graupner's hand or by his collaborators. This approach followed the practice of the time, which was to obtain works by external musicians in order to add variety to the performances at the Darmstadt court. As almost no autograph originals of Telemann's works have been preserved; ULB Darmstadt therefore possesses its own strand of tradition of Telemann's works.
The archive holdings of music publisher Breitkopf & Härtel are of particular importance in the music collection. After the war, the publishing house lacked the funds to rebuild in Wiesbaden, so the decision was made to auction off the valuable manuscripts (Auction catalogue 1951 (opens in new tab) ). However, this was prevented by the Federal President by means of a loan from the Marshal Plan against the right of first refusal by the Hesse state government, and the archive treasures were awarded to the State and University Library. This set of works contains autograph manuscripts and letters by the following composers:
Johann Christoph Friedrich Bach
Johann Sebastian Bach
Ludwig van Beethoven
Hector Berlioz
Johannes Brahms
Niels Wilhelm Gade
Georg Friedrich Handel
Joseph Haydn
Johann Ludwig Krebs
Franz Liszt
Karl Loewe
Felix Mendelssohn-Bartholdy
Hand Pfitzner
Max Reger
Xaver Scharwenka
Richard Strauss
Richard Wagner