Brief description
Good scientific practice requires precise and comprehensible documentation of findings. This is all the more important when researchers are sharing and publishing their own research data or want to reuse archived third-party data. Research data management based on largely standardised metadata is consequently of vital importance. Standardised metadata should deliver information on the origin, content and context of the research data described. Engineering research generates enormous quantities of heterogeneous data. Appropriate metadata management aims to enable researchers to select the correct data set for their own research from a wide range of existing digital data sets. FAIR principles state that metadata must be understandable to humans and machines.
Sharing of research data often begins sooner than widely expected, for example, when handing over a project within one's own research unit. Good documentation of data is therefore imperative. As a consequence metadata is hugely significant, particularly in the case of complex projects. Which tools are used, under which conditions or with which parameters research data is generated is in many cases just as important as the data itself. In a heterogeneous research field such as mechanical engineering, the requirement for common metadata standards and schemata presents a considerable challenge. Test set-ups or studies are often very specific, so that the associated metadata is often also highly heterogeneous. This can be addressed by a modelling concept which relies on inheritance and modularity, achieving high specificity with maximum applicability and reusability of the metadata schemata. At the same time, such a concept makes the specific schemata manageable and easier to maintain.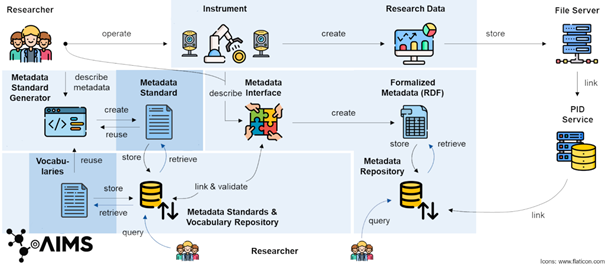 The research project "Applying Interoperable Metadata Standards (AIMS)", sponsored by the German Research Foundation (DFG), addresses the challenges of metadata management in engineering research. The project will focus on mechanical engineering and related disciplines. The interdisciplinary team from various infrastructure and scientific institutions is building a platform to enable researchers to create and share metadata schemata. High specificity with maximum applicability and reusability of the metadata schemata can be achieved by the use of a modelling concept which relies on inheritance and modularity. This will increase the willingness of researchers to integrate structured metadata into their research processes, paving the way for common metadata standards as they become more widespread. The project was conceived from the outset as a collaboration between infrastructure and research to ensure that the metadata concept realised in AIMS is integrated directly into the processes of participating researchers. By considering the interoperability of the resulting metadata schemata and interfaces, the generic transfer of these solutions to other research fields is explicitly pursued.
Project status
ongoing, 01.05.2020 – 30.04.2023
Cooperation partners
IT Center,RWTH Aachen University
Werkzeugmaschinenlabor (WZL), RWTH Aachen University
Institut für Fluidsystemtechnik (FST), TU Darmstadt
Further information
AIMS
Funding
Funded by the German Research Foundation (DFG)